Long Beach, California
Call us for Windshield Replacement in Long Beach at (714) 422-0080
When you need service to your auto glass in Long Beach, California, contact our professional staff from Mobile Auto Glass Solutions. A simple phone call to (714) 422-0080 will put you in touch with a member of our staff who can help you with any of your auto glass replacement or repair needs. Contact the team who will perform your window crack repairs right the first time.
Serving the greater Southern California area, Mobile Auto Glass Solutions will assist you with the repairs you need for your car windows. Our knowledgeable technicians can assist you with windshield replacement if your vehicle has recently fallen victim to rocks kicked up by large trucks on the road. We can provide both small cars and large trucks with windshield repairs in a timely and friendly manner.With locations in San Diego County, Orange County, Riverside County and Los Angeles County in California, Mobile Auto Glass Solutions is the company to trust with all of your auto glass repairs. Do not trust just any team of technicians with your vehicle's windows. Our staff takes pride in the service we provide our customers and look forward to assisting you with all of your auto glass needs when you make a call to (714) 422-0080.
All installers are insured. For your convenience we accept Visa, MasterCard, American Express and Discover cards. Insurance claims? No problem! We will bill your insurance directly. – Pick up the phone and call now (714) 422-0080
Services We Provide
• Auto Glass
• Windshield Replacement
• Auto Glass Repairs
• Auto Glass Replacement
• Windshield Repairs
• Car Windows
• Window Crack Repairs
Long Beach is a city situated in Los Angeles County in Southern California, on the Pacific coast of the United States. The city is the 36th-largest city in the nation and the seventh-largest in California. As of 2012, its population was 467,892.[3] In addition, Long Beach is the second largest city within Greater Los Angeles Area, after Los Angeles, and a principal city of the Los Angeles-Long Beach-Santa Ana metropolitan area.
The city is a dominant maritime center of the United States. The Port of Long Beach is the United States' second busiest container port and one of the world's largest shipping ports.[4] The city also maintains a large oil industry with the substance being found both underground and offshore. Manufacturing sectors include those in aircraft, car parts, electronic and audiovisual equipment, and home furnishings. It is also home to headquarters for corporations including Epson America, Molina Healthcare, and SCAN Health Plan.
Downtown Long Beach is located approximately 25 miles (40 km) south of Downtown Los Angeles, though the two cities border each other for several miles on Long Beach's southwestern portion. Long Beach borders Orange County on its southeast edge.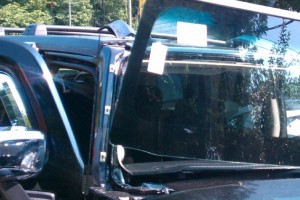 $10 off auto glass and windshield replacement needs.