Call us for Windshield Replacement in Villa Park at 714-422-0080

All installers are insured.  For your convenience we accept Visa, MasterCard, American Express and Discover cards.  Insurance claims? No problem! We will bill your insurance directly.  – Pick up the phone and call now 714-422-0080
Services We Provide
Auto Glass
Windshield Replacement
Auto Glass Repairs
Auto Glass Replacement
Windshield Repairs
Car Windows
Window Crack Repairs
When you need service to your auto glass in Villa Park, California, contact our professional staff from Mobile Auto Glass Solutions. A simple phone call to 714-422-0080 will put you in touch with a member of our staff who can help you with any of your auto glass replacement or repair needs. Contact the team who will perform your window crack repairs right the first time.
Serving the greater Southern California area, Mobile Auto Glass Solutions will assist you with the repairs you need for your car windows. Our knowledgeable technicians can assist you with windshield replacement if your vehicle has recently fallen victim to rocks kicked up by large trucks on the road. We can provide both small cars and large trucks with windshield repairs in a timely and friendly manner.
With locations in San Diego County, Orange County, Riverside County and Los Angeles County in California, Mobile Auto Glass Solutions is the company to trust with all of your auto glass repairs. Do not trust just any team of technicians with your vehicle's windows. Our staff takes pride in the service we provide our customers and look forward to assisting you with all of your auto glass needs when you make a call to 714-422-0080.
Villa Park is an affluent city in northern Orange County, California, near and surrounded by the city of Orange, and close to Anaheim Hills, that incorporated in 1962. As of the 2010 Census, the city had a population of 5,812, down from 5,999 at the 2000 census, achieving the status of the smallest city in Orange County by population (La Palma is Orange County's smallest city in area). Villa Park includes about 2,000 homes and the land is nearly 99% built out. The city is largely zoned for single-family residences and are located on larger lots that average about 20,000 square feet (1,900 m2) or 1/2 acre in size. Within the city limits there is one small shopping center that includes a Ralph's "Fresh Fare" grocery store, three banks, a pharmacy with a postal substation, and a variety of stores and offices. City Hall, including a community room, and a branch of the Orange County Public Library are located adjacent to the city's only shopping center. Also nearby are some professional offices, and three restaurants, including Rockwell's Cafe & Bakery.
There are a total of four public schools with the city, including Serrano and Villa Park Elementary Schools, Cerro Villa Middle School, and Villa Park High School. All four schools are operated by the Orange Unified School District, which also happens to be the largest employer within the city.
Perhaps ironically, there are no public parks within the entire city limits. Many homes have pools or tennis courts, or both. Unlike the urban areas of Orange County which are situated west of the city, Villa Park has winding streets and it is known for having a rural feel with few sidewalks and limited street lights. Throughout the city are many trees and flowers located in planted medians and parkways that contribute to a rural, green-belt like ambiance. Surrounded by the city of Orange, Villa Park appears as an enclave or "perforation" within the city of Orange. This is due largely to the fact that Villa Park's early unwillingness to annex land beyond Santiago Creek, to annex the lands east of a Southern California Edison Power Line Easement that sat between the city of Villa Park and Anaheim Hills, eventually being annexed by the city of Orange.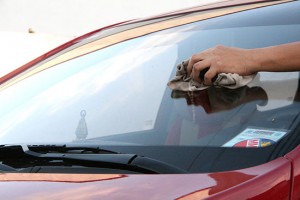 Mobile Auto Glass Solutions is offering $10 Windshield Replacment