West Covina –
Looking for Mobile Auto Glass Replacement in West Covina, California? Call us today at (909) 346-2460
Fast, Efficient Windshield Replacement
Whether your car was broken into, you were involved in an accident or other damage occurred, you need fast, efficient auto glass replacement in West Covina. Our specialists are trained and experienced in replacing glass in a variety of vehicles so you can feel confident in our quality of workmanship. No matter when the damage occurs or where, we will send someone who knows how to fix it so you don't have to drive around with plastic over your window. Your safety is our first priority.
Don't Hesitate, Call Now
When your auto glass is broken, it isn't safe to keep driving around in that condition. You need to contact our professionals at (909) 346-2460 to get your glass replaced as quickly as possible. Many auto insurance policies cover auto glass replacement in West Covina. When you work with Mobile Auto Glass Solutions, we will bill your insurance company directly so you don't have to worry about reimbursements, save time and money with Mobile Auto Glass Solutions. Give us a call today!
Sometimes auto glass repair isn't an option due to the amount of damage that has occurred. Perhaps there is a long crack across your windshield or a portion of the glass has been broken out. In these situations, you need auto glass replacement in West Covina, California. Mobile Auto Glass Solutions is able to replace your automotive window glass, at your location, so you can get back on the road with a vehicle that is safe and secure. Don't let broken glass stop you!
Services We Provide
• Auto Glass
• Windshield Replacement
• Auto Glass Repairs
• Auto Glass Replacement
• Windshield Repairs
• Car Windows
• Window Crack Repairs
West Covina is a city in Los Angeles County, California, located 19 miles (31 km) east of Downtown Los Angeles in the eastern San Gabriel Valley and is part of the Greater Los Angeles area. The population for the city was 106,098 at the 2010 census.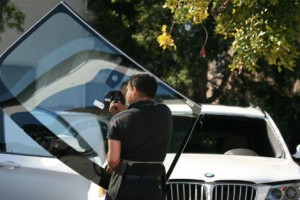 $10 off all your auto glass needs.